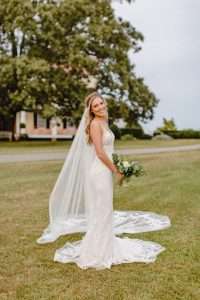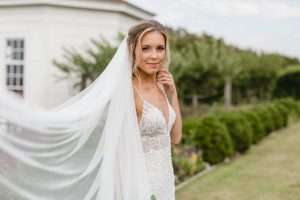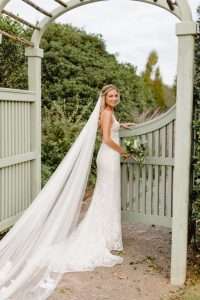 1. How did you meet your husband? Tell us a little about your relationship.
– I met my husband in college at a tailgate for a football game. He already knew who I was through a mutual friend, and began to arrange "elevator run-ins" between us, as we lived at the same apartment complex. He finally asked me on our first date a few months later.
– As far as our relationship goes, we both make each other laugh all the time. He is the more logical realist and I'm the illogical dreamer, so it's a good balance. If he was answering these questions, he would answer in one sentence vs my paragraphs. We have been together for 6 years, and we know everything about each other- how to cheer each other up and how to press each other's buttons. No relationship is perfect, but we have both agree that during the times arguments arise, 90% of the time we are just hungry and trying to pick a restaurant😂
2. How did he propose?
On Christmas Day 2018, Chris proposed to me during his family vacation in Vail, Colorado. He had been planning this since April, and I had absolutely no idea. Chris and I were walking through Vail Village and he asked a woman to take a picture of us. It turns out, this woman was a photographer he hired, and he got down on one knee for the picture. I was so surprised that I barely noticed my whole family was a few steps away from us. Chris knew I was upset about missing Christmas with my family for the first time, so he had coordinated with them to fly to Colorado for the proposal.
3. How did you start planning your wedding? What were the first steps?
I started planning with my mom and sister. The first steps were choosing a date and venue. Choosing a date was easy for us. I knew I wanted a fall wedding, but we are big football fans, so we picked one of two weekends that our team was not playing.
We are both Catholic, so I knew the wedding would be in a Catholic Church. There is a beautiful Cathedral style church in my hometown called St. Edwards, and I eventually decided on that one. I have a really big family, so I needed a reception venue with a high capacity that was still beautiful, so we chose The Country Club of Little Rock, right by my parents house.
4. Did you do any beauty or fitness prep for your big day?
As far as beauty goes, I did not change my regimen too much! I did order clip in extensions to make my hair look fuller. I got a hydrafacial the week of the wedding, as well as a spray tan. For fitness, I googled wedding workout programs, and found a program called, "Sweating for the Wedding," that mainly consisted of arm/leg/cardio workouts at my gym 3x/week. I absolutely hate all cardio, except for cycling/spin, so that was a life saver!
5. What was your wedding theme?
I truly did not know how to answer this question when my wedding planner asked me, but when I described my style and ideas to my florist, he said that my wedding would be "classy bohemian." 😂Basically, my venues and ceremony were very traditional, but my floral, decor, and dress were more bohemian. My colors were silvery sage, dusty rose, and metallics.
6. How did you choose your location?
I picked the Church solely off of its beauty. I picked the Country Club as a reception venue due to capacity size and style- it was recently renovated and less traditional looking than other clubs in the area.
7. How did you find your perfect dress?
I went to two bridal boutiques in Austin, Texas with my mother, sister, and a few friends/bridesmaids. I liked the first dress I tried on a the first boutique, but I didn't feel that excitement everyone seems to feel on the wedding shows! I decided to try another boutique, Serendipity. At Serendipity, the bridal consultant was amazing and and asked me so many specific questions to find the perfect dress. My friends showed me a Yaniv Persy dress, and as soon as I put it on, I knew it was the dress for me. I felt the magic! Everyone else knew, too. The consultant then paired the dress with a dramatic cathedral style veil that had floral that almost matched the dress perfectly–even though it was a different brand. It was the best feeling ever to find my dream dress and veil!
8. How was your experience with the Yaniv Persy brand?
My experience with the brand was fantastic! The dress is absolutely stunning, and I got so many compliments on it, but honestly my favorite part was how low maintenance the dress was, even though it is so intricate and detailed! It was comfortable, easy to move around in, and easy to alter. I had to fly home with the dress for my bridal portraits, and the only option was to put the dress in my carry on suitcase. It fit perfectly, and the material did not even wrinkle! We thought we would have to steam it, but it was perfect and ready to go. The Yaniv Persy brand Instagram account has also been very personable with me and posted some of my bridal portraits. It was an honor to be a Yaniv Persy bride and I recommend his designs to all brides