Our #YPBride of the week is the stunning Elyse, who celebrated her wedding in a Lavish By Persy Sophia wedding gown. Elyse and her fiancé held their wedding in Pennsylvania at a gorgeous outdoor wedding garden. In the following interview, Elyse shares with us the moments she'll never forget and the process fell in love with Sophia Wedding gown at our boutique in New Jersey Jaehee Bridal – It was love from the first sight, Just perfect wedding gown. As told by Elyse :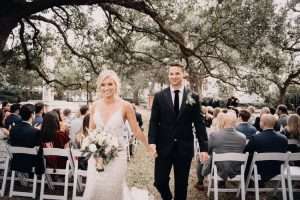 How did you meet your husband?
Steven and I both worked in the same office building and passed by each other many times before we "officially" met at a friends birthday party. We hit it off and the night ended with a pizza and a soda with two straws… the rest was history.
Tell us a bit about your relationship: We are a team. We both believe that is a big foundation to have in any relationship. We make each other laugh daily and put each other first.
How did he propose?
Steven and I traveled to London for a week in April with friends. In the middle of the week, he planned a surprise trip to Paris for a night. We left early on the train in the morning and toured the city all day. At night, we had a picnic under the Eiffel Tower in the Trocadero Gardens. Before it started to rain, Steven proposed on one knee as the Eiffel Tower sparkled. It was beautiful.
How did you start planning your wedding? What were the first steps?
We started by choosing a location, venue and date. Once we decided on Washington Square Park, Charleston SC for the ceremony and Rue de Jean for the reception, we chose November 22 as our wedding date and the rest fell into place
Did you do any beauty or fitness prep for your big day?
I kept my beauty regimen the same, making sure i washed my face and moisturized twice a day! I work out on a regular basis but I started classes at F45 in late June. I worked out there at least 5 days every week through October. It is my favorite workout!
What was your wedding theme?
I wouldn't say we had a specific theme for the wedding. We made sure to make our wedding day decisions on what we truly wanted. We definitely prioritized and it was perfect! ( My dress was a main priority 🙂 )
How did you choose your location?
We live in Charlotte, NC and both have been to Charleston, SC more than a few times. It is a quick 3 hour drive from us. Charleston is beautiful and there is so much to do there, we knew it would be a fun place for our guests. We knew November was a risk for weather but more times than not it is perfect that time of year. We wanted to get married outside and based on the number of guests and outside options around town, we decided on Washington Square Park. You can't go wrong with an outside location in Charleston. The city is gorgeous and there are so many great places for pictures!
How did you find your perfect dress?
I went to visit my sister in NJ in June, shortly after our engagement. With only about 6 months to our wedding, I knew i had to order a dress soon! I flew up on a Saturday and had an appointment at Jaehee Bridal in NJ and two more boutiques in NYC that same day. I was still unsure of which dress to pick as i headed to the airport to fly back to Charlotte on Sunday. My flight was cancelled that afternoon and I was unable to fly out until late the next day. To make use of my time, I booked a second appointment at Jaehee Bridal to make sure i was happy with my potential decision. As I was trying on dresses, my sister pulled the gorgeous Sophia gown as my last dress to try on. As soon as i put it on, i knew it was the one. It was unlike any other dress i tried on and it was absolutely beautiful.
How was your experience with the Yaniv Persy brand?
Perfect. I love my dress!!! We placed an order for the dress in June and it arrived in September with plenty of time for alterations. I received countless compliments on my dress, everyone thought it was gorgeous. i highly recommend Yaniv Persy to every bride to be 🙂